SarniaRocks Energy Gemstones
Currently in stock:
Tumbled pocket size
$2/each
Unakite
Colour: Moss Green & Salmon
Energy: Power
Chakra: Heart Chakra
Gemstone meaning:
Unakite (or Epidote) can be used to draw off negative energy and blockage from the Heart Chakra. Unakite is said to lift your spirits when you are feeling down - this is the gemstone to help you to see the beauty in life. It is also used to uncover deception. Used in magic spell casting, unakite will give the user a more confident control of any spell, and the user will find things that have been lost. Unakite is a made up of a combination of three minerals: Green Epidote, Pink Fieldspar and Quartz. It is a balancing stone helping to balance all aspects of the self; emotional, spiritual and mental, and allowing you to feel more centred. Unakite is also believed to help release energy blockages, that may be inhibiting your growth, and to encourage you to live in the present rather than in the past.
The Pink Fieldspar in Unakite encourages you to love yourself for who you are, which in turn allows you to attract and keep the love of others.
Unakite is said to be of benefit to the female reproductive system and during pregnancy. It is also said to provide support to those recovering from a major illness or convalescing .
------
Red Tiger Eye
Colour: Red
Zodiac: Leo, Scorpio
Chakra: Root Chakra
Gemstone meaning:
Red Tiger's Eye is a stimulating stone that is said to increase motivation and to help overcome lethargy . All Tiger's Eye crystals are stones of protection and were traditionally carried to protect against curses. It is said to promote a positive attitude and to increase feelings of self worth. It is believed to help you to discover, and have confidence in, your own abilities helping to enhance your personal power and self confidence. Tiger's Eye is also said to bring good luck and prosperity. This South African tumbled Red Tiger Eye has rippling bands of earthy red hues and the variations and shimmer typical to Tiger Eye. Red Tiger Eye has a beautifully gentle flash when held under a light. Use tumbled Red Tiger Eye when working with the Root Chakra. Red Tiger Eye is a stimulating stone and can support motivation and a more active sex drive. Some use Red Tiger Eye to ground sexual ideas into the physical world, or to resolve sexual issues that are causing problems in a relationship. While all forms of Tiger Eye help to raise vibrations, they also connect these energies to the lower Chakras in balance, which keeps one from feeling disconnected.
------
Tumbled Moss Agate
Colour: Green
Zodiac: Taurus
Element: Earth Element
Chakra: Heart Chakra
Gemstone meaning:
Moss agate is a multi-shade of green that resembles moss or trees from a distance. It is sometimes found with bands of brown agate and when this occurs it is called mocha stone. Moss agates are considered the most powerful of the agates. It was the agate of warriors. Moss agate is the most powerful of the agates that helps balance emotional energy. It helps the user to let go of anger and bitterness, so the emotions are balanced. When used in jewelry the moss agate is believed to bring the wearer health, friends and riches. Moss agate enhances concentration, persistence, endurance and success in one's endeavors. It is an abundance stone.
Moss Agate strengthens in times of stress. It is helpful in relieving sensitivities to weather and pollution. Midwives use it to assist in successful birthing. It is used to speed up recovery, counteract long term illnesses, cleanse the circulatory and elimination systems.
------
Citrine
Colour: translucent yellow to golden brown
Zodiac: Gemini/Leo
Energies: Money, luck, protection, healing
Chakra: Third Chakra – Solar Plexus
Gemstone meaning:
Citrine is a yellow-to-golden member of the quartz mineral group. Citrine has been called the "stone of the mind". Ancient cultures believed that placing a citrine on the forehead of an elder would increase his psychic power. Citrine is known as the lucky "Merchants Stone". If you are in any type of sales, just put a citrine in the cash drawer and watch what happens. Also used by healers to: increase self esteem, protect from the negative energy from someone else's abuse, open the mind to new thoughts, promote clarity of thought. Citrine is sometimes used by healers to help with digestion as it is considered beneficial to the endocrine and digestive system - cleansing, purifying and eliminating poisons that have built up. Citrine is an excellent stone to calm and soothe distressed conditions. Some use it to help relieve depression, digestive problems and diabetes. It will give joy and love to the owner.
------
Mahogany Obsidian
Colour: Brown with Black Spots
Energies: Healing, protection
Chakra: Base Chakra
Gemstone meaning:
Obsidian is associated with Pluto - Greek god of the underworld and keeper of hidden treasure. Obsidian is a grounding stone but also contains a fiery element. It is useful for developing the strength needed to stand on your own convictions against any enemy (hidden or otherwise).
Mahogany obsidian has a gentle energy that will ground and protect its owner. Use it for strength in times of need, to remove energy blocks, and give new life to your purposes and goals. Healers use it to relieve pain and improve circulation. Obsidian can be found anywhere that volcanic activity has occurred. Some of its important sources today are South America, Japan, Mexico, Afghanistan, and parts of the United States. The San Carlos Apache Reservation in Arizona, United States, produces an interesting banded variety of obsidian known as Apache Tears.
------
Brecciated Jasper
Colour: Red with white veins/streaks
Zodiac: Aries, Scorpio
Chakra: Root Chakra
Gemstone meaning:
A stone of strength and vitality, it can be used to bring mental clarity and focus to a previously scattered event, experience or life in general. It stimulates the base and sacral chakras in addition to cleansing and stabilizing the auric field. It removes negativity from any space, returning it to its original source. It is also used for overcoming sexual guilt or shame, can calm sexual aggressiveness as well as aiding in sexual compatibility. Use Brecciated Jasper as a worry stone to take advantage of its calming and nurturing properties. Brecciated Jasper also promotes dream recall. A detoxifying stone, it promotes health and healing/recovery from illness. It is a wonderful grounding stone which can assist those who feel overwhelmed when it comes to the task of organization. It can also help in developing creativity and finding adequate outlets for the expression of this creativity. In general, Jasper is known as the "supreme nurturer". It sustains and supports during times of stress, and brings tranquility and wholeness. Used in healing, Jasper unifies all aspects of your life. Jasper reminds people to help each other.
------
Amazonite
Colour: Pale Green/Blue
Energies: Luck, Healing
Chakra: Throat Chakra
Gemstone meaning:
This semi-opaque blue-green variety of feldspar is named after the Amazon River. Amazonite balances feminine and masculine energy. It promotes kindness and practicality. It is an excellent stone for artists and for men. Pale azure blue amazonite is know as the lucky "Hope Stone". It will be lucky for all your hopes and dreams. Amazonite is blue-green to pale green stone in the feldspar group. Sources of Amazonite: It comes mainly from United States and Australia. Amazonite helps balance the emotions and gives physical stamina.
------
Tree Agate
Colour: Green with mottled White
Chakra: Heart
Gemstone meaning:
Tree Agate is the common name for Dendritic Agate. The Stone of Plenitude. Place one of these anywhere that you want to encourage abundance and fullness. Some of the benefits of tree agate include: Enhances the health of house plants, creates a peaceful environment & deepens your connection to the earth. Be patient when using dendritic agate. It works slowly and takes time to be effective. Use it to encourage a more centered viewpoint in life. Healers use tree agate to align and correct anything with branches (such as blood vessels, nerves, skeletal disorders). Place it on a point of pain for relief.
------
Rose Quartz
Colour: Pink
Chakra: Heart
Gemstone meaning:
Rose Quartz is a translucent or transparent pink crystal. It is known as the 'Love Stone' and is said to be the stone of unconditional love. This crystal opens the Heart Chakra and is believed to encourage forgiveness and to help you to let go of anger, resentment and jealousy. Rose Quartz can also support you in learning how to love yourself and how to receive love from someone else. In healing Rose Quartz is said to smooth the complexion, sooth burns and blistering, strengthen the physical heart, alleviate vertigo and heal chest, lung, kidney and adrenal problems. Rose Quartz is believed to enhance fertitlity. Wear Rose Quartz over the heart, or keep close to you in your pocket or purse. It can also be placed in the relationship corner of your home to attract love. This is the farthest right hand corner as you walk in the front door. Placing Rose Quartz by your bed or under you pillow can aid sleep.
------
Red Snowflake Obsidian
Colour: Red with white, gray snowflake patterns
Power: Healing, Protection
Gemstone meaning:
Sometimes called the "stone of purity," Snowflake Obsidian is associated with the skeletal and vascular systems, and is said to support smooth skin. Snowflake Obsidian calms and soothes when working with the Sacral Chakra, and is also good for working with the Root Chakras. Snowflake Obsidian is a good choice for Sagittarius. Snowflake Obsidian has a restful and serene energy helping to bring peace and balance to the mind and body. Snowflake Obsidian encourages inner reflection making us aware of negative patterns of thought and unhealthy patterns of behaviour and giving us the chance to change them. It is also believed to help shield the wearer from negativity and grief. It is considered a good detoxification stone.
Fresh Mined Raw Untumbled Stones
Prices vary depending on size
e-mail for more info
Amethyst
Colour: Violet
Zodiac: Pisces
Energies: Power, Protection, Healing
Chakra: Seventh Chakra- Crown of Pineal Gland
Gemstone meaning:
Crystalline quartz in shades of purple, lilac or mauve is called amethyst, a stone traditionally worn to guard against drunkeness and to instill a sober mind. The word amethyst comes from the Greek meaning "without drunkenness" and amethyst is believed to protect one from poison. Power Stone. It is used as a dream stone and to help insomnia. Put an amethyst under your pillow to bring about pleasant dreams, or rub it across your forehead to offer relief from a headache. Ancient Egyptians used the amethyst guard against guilty and fearful feelings. It has been worn as protection from self-deception, as well as a protection against witchcraft. The amethyst has long been used to open the spiritual and psychic centers, making it one of the power stones. It is also used as a meditation aid when worn as a necklace. The amethyst is known as the Bishop's Stone and is still worn by Catholic Bishops. The amethyst symbolizes piety, humility, sincerity and spiritual wisdom. It is thought the amethyst is the perfect stone to symbolize The Age of Aquarius. Amethyst is a gemstone often worn by healers, as it has the power to focus energy. A healer will usually wear several pieces of jewelry with amethysts set in silver, especially an amethyst necklace. The person to be healed will have an Amethyst to hold while the healing is being done. The healer will place another piece of Amethyst on the area of the body in need of healing, the heart or lungs usually. Amethyst is used for problems in the blood and in breathing problems. Amethyst crystal clusters are used to keep the air and life force in the home clean and positive. Amethyst clusters, points or several tumbled Amethysts placed in a window that receives sun most of the day are very beneficial to use in healing and to heal negativity in the home. Place Amethyst clusters, points or several tumbled Amethysts in moonlight and everyone in the home will be feeling calmer. Using an Amethyst as a meditation focus will increase the positive spiritual feelings. Amethyst helps overcome fears and cravings. It also helps relieve headaches.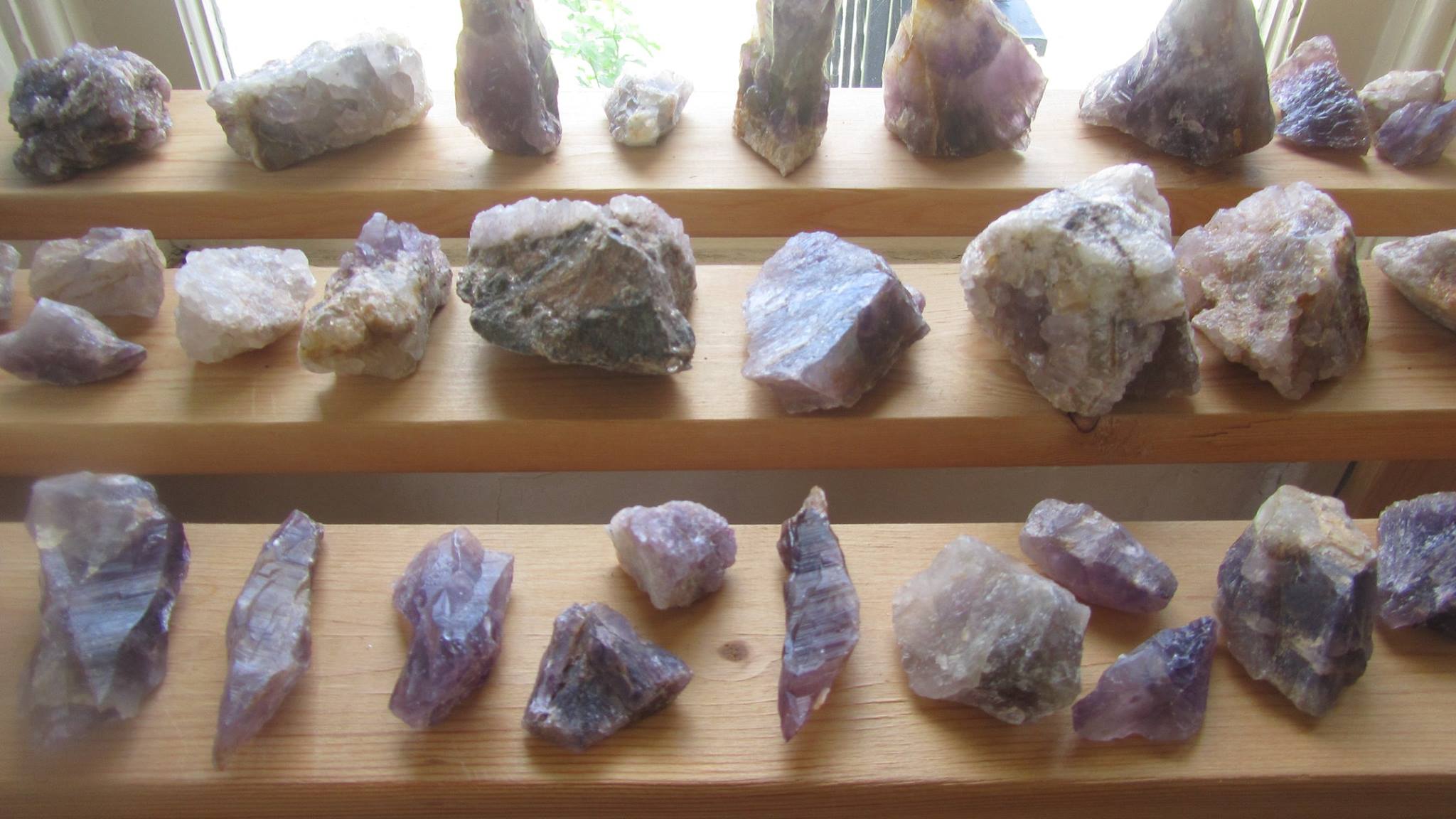 Positivity Shakers
"I shake it on everything!"
A variety of raw gemstones in a secure little 3" high jar.
$5/each